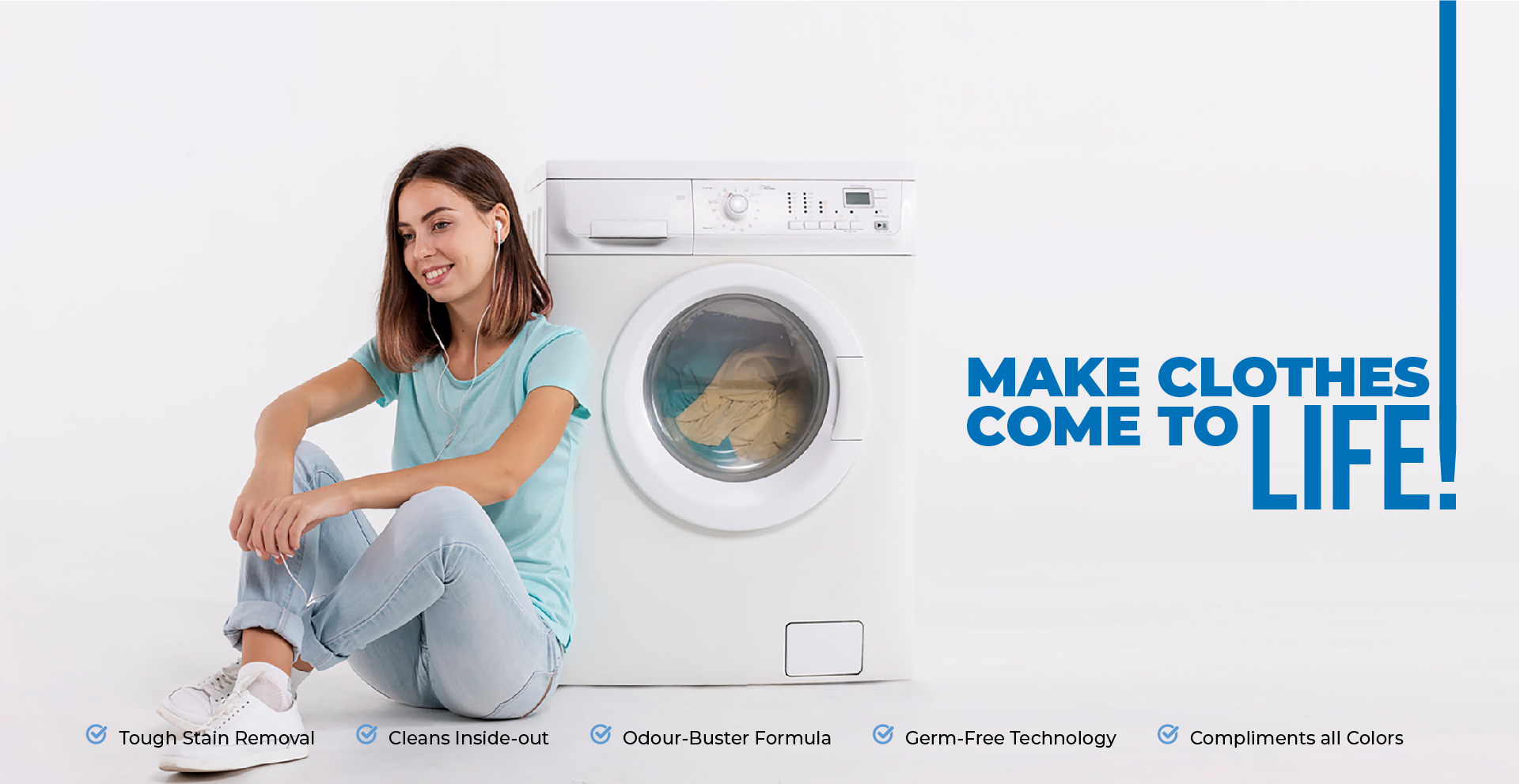 Easy Ways to Wash Off Tough Stains with the
Best Machine Washing Powder
Washing clothes will be an enjoyable time now as you have got the most advanced form of detergent that is gentle for fabric and clog-free for washing machines. Welcome Oxyzen!
Yes, you read this right. You have finally got the best detergent powder that is clog-free and gentle for any type of fabric or clothes type. Welcome Oxyzen, which is formulated with a promise of easy cleaning and fresh appearance by removing dirt captive segments of the clothes effortlessly through the ultimate results of being the Top detergent powder in India.
As Oxygen helps to keep you alive, being the best-ever machine washing power- Oxyzen helps with softness, shine, cleanliness of the clothes that have been soiled with curries, ketchup, mud-splash, grease, oil stain, ink, and lots more. So, if you want to enjoy your favourite clothes once again, here is the solution. Additionally, this is not just a washing powder like others, it follows the clog-free formula with germ-fighting technology that makes it a supreme option as a front-load washing machine powder as well as a top load washing machine powder.
So, gone are the days when you had to suffer a backache due to washing clothes for hours. Just dump all the clothes in your front-load or top-load washing machine, pour just a scoop-full of Oxyzen Top Load Color Care Matic or Oxyzen Front Load Color Care Matic, switch on the machine, and sit back. Let everything get handled by the top detergent powder in India.
Easy Ways to Wash Clothes by Using Oxyzen
Front-Load Washing Machine Powder
 Add Oxyzen: Yes, add Oxyzen to your clothes and revive their shine and freshness altogether. Being the best detergent powder for washing machines, you will experience an optical brightness with sparkling shine. This will give a definite tough competition to your earlier front-load washing machine powder.
 Spoon correctly: Follow the information as shared on the back of the Oxyzen front-load washing machine detergent powder pack. Being the best detergent powder, Oxyzen fights tough stains that help towards a cleaner and brighter look in just a single wash. So, choose the correct dose of the detergent according to the clothes that are getting washed. Being expert-designed, this is brilliantly developed for deep and soulful cleaning.
 Dump each cloth separately: Using a washing machine asks you to go gentle while filling up the drum/bucket of the machine with clothes. Thrusting all the clothes in one go will create pressure on the mortar as it will entangle all the clothes while spinning with water and washing powder.
 Fit Laundry Correctly: As said earlier, washing clothes in a washing machine also asks you to be careful while loading the machine with clothes. Do not dump all and every type of cloth at the same time. Make sure that you have left enough space for the clothes to move around in the drum with water so that the washing happens evenly.
5. Choose the Temperature, Right!: Yes, if you are washing woollen or semi-woollen garments then you must wash your clothes in slightly warmer water. Oxyzen offers a balanced solution mix that has oxy-bubble formula that rubs off the dirt from the hardest fabric in the most simple way. Unlike other detergent brands, it extends active oxygen to your woollens which have lost their warmth due to repeat wearing.
6. Sit Back and Rest: After, choosing the temperature, it's time for you to let the machine start and clean your clothes with Oxyzen. The Color Care Matic formula helps retain the color of the fabric without leaving any rigidity to clothes.
Easy Ways to Wash Clothes by Using Oxyzen
Top Load Washing Machine Powder
Add Oxyzen to the Fabric: Being highly effective and the best detergent powder, Oxyzen helps with highly active cleaning power will leave no stain or blot intact with the fabric. So, as you start with the top-load system, you must add just one scoop of Oxyzen top load washing machine powder to the compartment or the detergent segment in the machine. This has to be done first so that this gets evenly dissolved with the water before you put the clothes.
Insert Clothes: Now that you have prepared your washing machine with water and Oxyzen Color-Care Matic (Top Load), be careful while dumping your clothes in the machine. It should not be thrust in together all at once. Each cloth should be opened and then dropped so that it does not burden the machine.
3. Choose the spin as per the fabric type: As you are using top load washing machine powder, it is deemed that you are using a fully automatic washing machine that will self-assess the washing time according to the clothes. However, if it is semi-automatic, you need to select the spin type. So, go forth to choose the lowest cycle spin so that no hard-effect hampers the fabric type and shine of the clothes.
4. Unload immediately: After the cycles have finished and it is done with drying. You need not wait to bring out the washed clothes. The sooner you unload the clothes, the better it will all be oxidized with freshness and a clean appearance. Always make sure that as the machine notifies that the washing is complete, take out the washed clothes so that they stay fresh and fabulous with the goodness of Oxyzen.
Easy Ways to Wash Clothes by Hands
 It is well-advised that you need to read the garment label before hand washing. If nothing is prescribed before the wash, one can use mild washing liquid or softeners with an anti-bacterial agent.
 Fill a tub or a sink with luke-warm water (if no garment label is attached). If your garment is attached with advice, take care of the suggestions added. Add a teaspoon of the detergent or the liquid detergent as suggested for the garment washing purpose.
 Now, submerge the clothes that need to be washed in the solution water. Don't rub tightly. Oxyzen will help remove the tough stains without any tough handling. Just soak the garments for a while and let the magic happen.
 Strain the solvent water, add cold water and rinse the clothes for better removal of detergent particles. Repeat the process with clean water if necessary.
Features of Oxyzen
Contains Active Oxygen
Anti-bacterial Formula
Phosphate Free
Eco-Friendly Product
Tough Stain-Removing Agent
Cleans Inside-Out
Magnifies Odour-Locking Formula
Germ-Free Technology
Compliments All Colours
Safe on Hands
Works Best in both Machine and Bucket Wash
Effectively and Evenly Dissolving Granules
Being the top detergent powder in India, Oxyzen is the best-welcomed detergent brand in the country. And here we have discussed how efficiently this will clean your clothes (Front-load | Top-load) in just a scoop. Oxyzen is the best-proven detergent that features an ample number of qualities that abide to remove hard-stains of oil, ink, chocolate, curries, sauce, and more.So, while you research and opt-in for the best washing machine for your clothes, it is well suggested to buy the best machine washing powder to get the best result in less time.Get a hang of the above instructions to tidy your clothes with Oxyzen!
Try out today!